THIS BLOG HAS MOVED. IT IS NOW AT SEARED.CA. CLICK HERE TO BE REDIRECTED.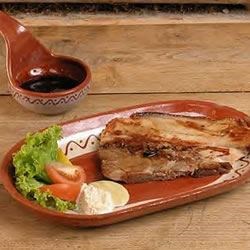 I was just reading
Mom's Stovetop Pork Ribs over at AllRecipes
and this recipe sounds absolutely delicious and so easy! While I much prefer to cook any meat on a grill, we don't have one right now (WHAT??) and this is an excellent alternative. If you give this recipe a try, I would love to know how it turns out, so let me know in the comments.
I'd have given it a shot tonight if I didn't already have a pork roast in the slow cooker, rubber with smoky cumin, onions and peppercorns and smothered in Guiness BBQ sauce and a whole can of Molson Canadian. I'm trying to come up with a good side dish for falling apart BBQ flavor pork roast. What do you serve with your pork roasts?
Follow us on Twitter:
@searedfoodblog